I like to keep fit and last year I found a fun way to stay fit, make new friends and contribute to a team endeavour. 'Dragon boating' is a fairly strenuous sport and the techniques of a winning team involve, strength, competitive spirit, paddling technique and most importantly, timing. To keep the boat flying at its maximum pace, all twenty paddlers must be synchronised. If one team member is out of time (or disengaged) the whole team suffers, as those immediately behind the errant team member will follow his or her timing and also be out of synch. The result is that the boat cannot gain speed and will inevitably drop back in a race.
In a recent dragon boat training session it suddenly occurred to me that the dragon boat scenario is a great analogy for what happens in a corporate setting when team members are not aligned or engaged with the company's goals. Not only is their own performance affected but the unaligned, or out of synch team player, affects the performance of others. So what does aligned and engaged mean? It means everyone in the team is in synch with each other and understands their part in achieving the goal.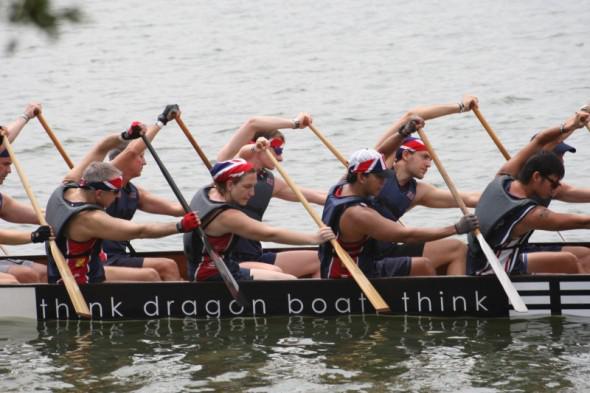 In a disengaged state employees merely come to work, do the minimum possible to earn their salary and view the company as nothing more than a pay master to be discarded at the first sign of trouble. In the worst cases of disengagement employees can cause misalignment (loss of synchrony) among the rest of the team with their attitude. The disengagement may manifest itself in an attitude of putting the least possible effort into performing a task, frequent errors, excessive gossip and time wasting, sick days and negative talk about the company and colleagues. Attitudes are contagious and this kind of attitude can be very poisonous if the rest of the team are not fully aligned and engaged in working towards the common goal.
The end result is a poorly performing team, which may in turn negatively affect other teams or departments who are dependent on the effectiveness of the poor performing one. The knock on effect on the organisation as a whole, just like the dragon boat, is a slow down in competitiveness and growth.
In my coaching practice I often encounter senior managers who tell me, in a state of frustration, that their teams, "Just don't seem to get it" "Don't appreciate the bigger picture", "Don't realise how important their results are to the organisation's strategy as a whole", "Work in isolation and don't cooperate properly with other departments". I sympathise with them and then ask, "So who is responsible for making sure team members understand their part in the bigger picture, appreciate and support the strategy and are aligned and engaged with achieving the company's goals?" It usually only takes a couple of seconds thought before they look at me and then point to themselves.
Newly appointed senior executives especially, sometimes have difficulty in letting go of their old functional job and it takes an "aha" moment for them to realise they are now the 'Chief Motivation Officer'. The key task of the CMO is to ensure team members are aligned, in synch with each other and the rest of the organisation and performing at their very best. Here's a few questions to ask yourself if you have the feeling your team is not fully engaged and aligned with the organisation's strategy and goals:
"How frequently do I get my team together to talk them through the latest company strategy?"

"How often do I help them understand the competitive situation and what our contribution means to keeping ahead of the rest?"

"When was the last time I got the team out of the work environment to help them bond as individuals and appreciate each others' strengths and personalities?"

"Have I ever invited other departments to my team meetings to explain their mission and what the performance of my team means to them?"

"Am I ever guilty of negative or defeatist talk, formally in meetings, or informally at the coffee machine?"

"How often do I seek ideas from my team as to how we can perform more efficiently and make a bigger contribution than we do today?"

"Do I know my team members and their personal hopes and aspirations?"

"For those team members I do know, how well am I presenting the company's goals such that they have some meaning and influence towards the individual?"
When an executive is heading up a large team of people, it's very easy to be drawn into daily operational issues and lose sight of the real job of Chief Motivation Officer. There are two key reasons why executives new to the role lose perspective on their real job. One is a natural desire to stay in their comfort zone of their old functional job, the one that got them promoted in the first place. The other is a failure to delegate and trust team members to tackle operational tasks, thus stealing time from the CMO role. These issues are less likely to occur in a company where high potentials are trained and coached prior to moving into senior management positions, which comes down to effective succession planning.
Is your team engaged and paddling in synch? Are your senior managers leading or just managing in a reactive mode? Are the people in your succession pipeline ready and fully prepared to step into a leadership role and be effective from their first day as a senior leader? Is your organisational boat really flying and accelerating, or is it lagging behind the competition? If it's lagging it's time to talk to WayAhead.
For more information on Dragon Boating visit:
http://www.britishdragonboat.com